Georgetown Commencement 2017 Goes Green!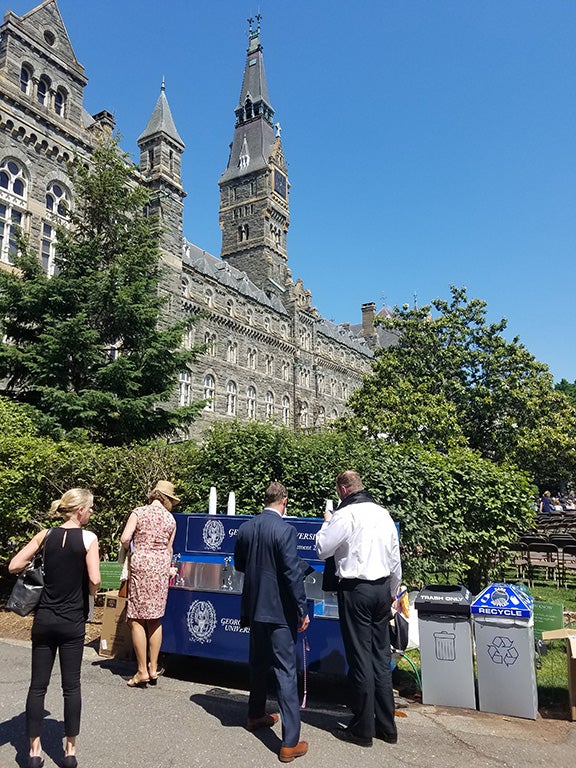 It's graduation season on the Hilltop!
One of the most festive moments on campus, graduation weekend is a time of great pride for our community. Each year we celebrate the culmination of the undergraduate and graduate experience as a new group of remarkable individuals enters our family of Hoya alumni.
As our graduating class, their family and friends look forward to the ceremonies, Georgetown is also taking steps to ensure that the festivities reflect our ongoing commitment to sustainability. The Office of Sustainability, Academic Events, and Facilities are teaming up to reduce waste at Georgetown's 2017 Commencement. We invite all participants to join us in helping to "green graduation!"
Integrated Commitment
Georgetown's commitment to sustainability is based on a holistic approach that ensures care for our common home, aligned with our University's Catholic and Jesuit heritage and commitment to the common good. The greening of graduation will bear the same purpose. Whether you are a student donning your cap and gown to symbolize your well-deserved accomplishments, or a faculty or staff member attending a graduation luncheon, small actions this weekend will add up to a massive campus-wide impact.
Reduce and Reuse
As Hoyas know, the end of May in Washington DC can get quite warm! On a campus as scenic as Georgetown, most graduation ceremonies take place outdoors, and the University ensures plenty of water available to help our graduates and guests stay cool and hydrated for their health.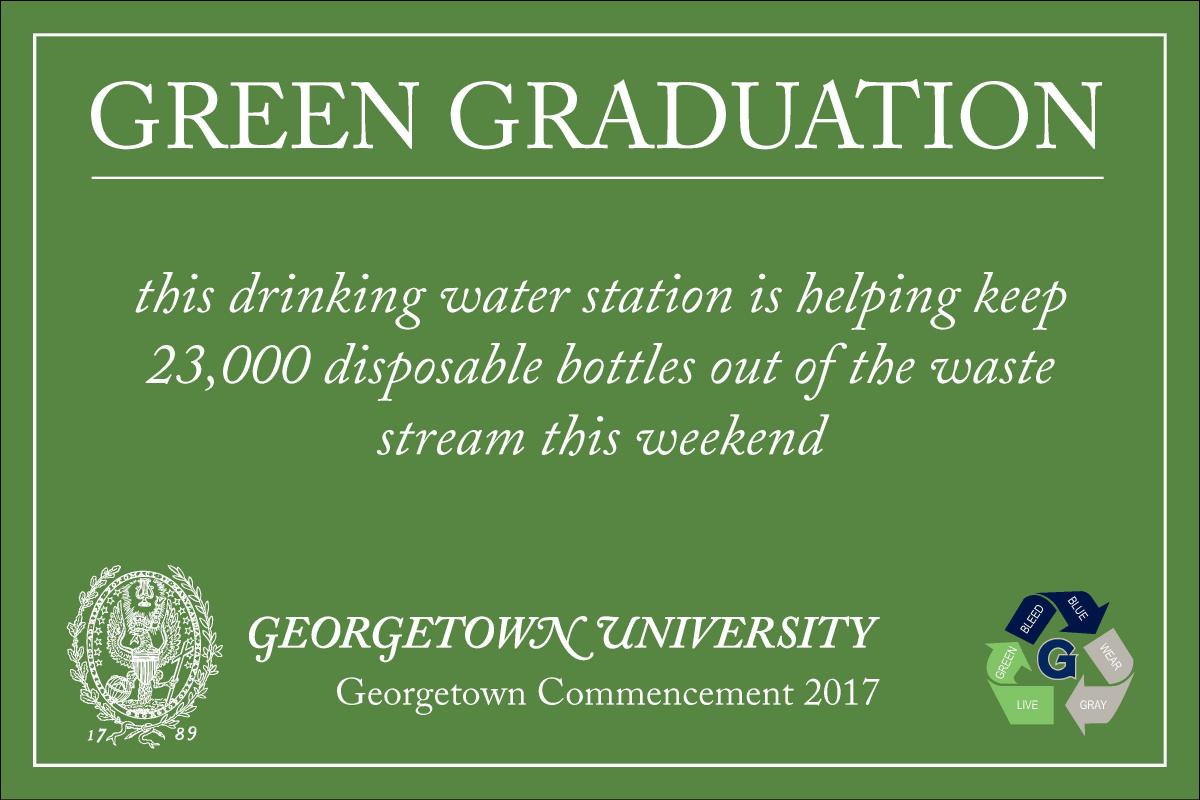 This year as part of our sustainability effort, Georgetown will be piloting two carts from Quench Buggy to provide filtered drinking water for up to 23,000 attendees at Commencement Weekend. The Quench Carts filter municipal potable water on site, providing an alternative to pre-packaged water and reducing the impacts of disposable bottles.  Hoyas and their guests can fill up their own reusable bottles or can use a recyclable cup provided at each station.
By harnessing our existing municipal water supply with the Quench Buggy carts, Georgetown will keep our community happily and healthily hydrated while avoiding the concerns associated with bottling, packaging and shipping bottled water. An added benefit of this system is reducing the task of swapping out water towers, enabling commencement staff to focus their efforts on other important aspects of the weekend's events!
Optimize Recycling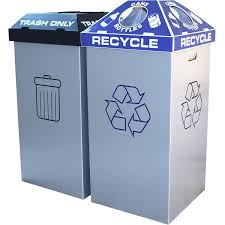 While the Quench carts will help commencement guests reduce and re-use, not everyone may be able to avoid using disposable cups, bottles or drink containers. To help keep those containers out of a landfill and into a more productive end use, additional recycling bins will be deployed at strategic locations across campus throughout graduation weekend. This effort will optimize recycling during graduation and will supplement the existing three-stream recycling containers that can be found across the campus grounds year-round.
By providing simplicity and clarity in recycling, we can dramatically reduce the number of materials entering the waste stream. Keep an eye out for these new containers, and don't hesitate to let us know what you think as we test out the new bins!
A Greener Gown
If you are a member of the 2017 graduating class, you can help create a positive impact with your graduation gown, too!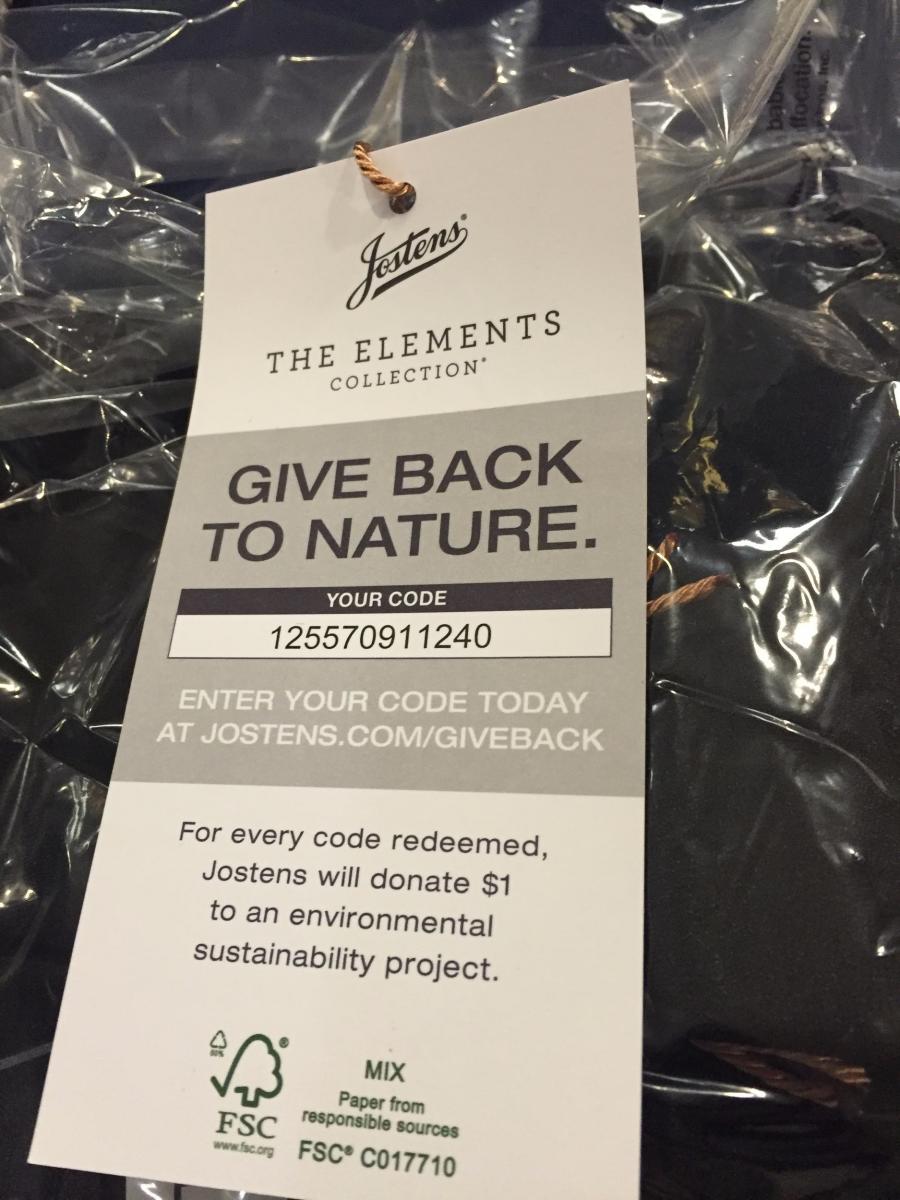 Georgetown's official graduation gown provider, Jostens, shares a commitment to the environment and sustainability.
As part of this commitment, each gown comes with a unique code which students can "redeem" by simply visiting the website and typing in the code. For every code redeemed, Josten's donates a dollar to sustainability efforts worldwide.
Graduates can enter your code here, and learn more about how this simple act can help fund sustainability efforts across the globe.
Hoya Saxa, and congratulations graduates!