Creating a Campus Sustainability Plan
Our Approach

Georgetown University is planning for the long-term sustainability of the campus through a two-pronged approach, which includes adopting Sustainability and Smart Growth (new window) as core planning principles for our 2018 Master Plan (new window) , and also developing an Energy Master Plan and a plan for sustainable campus operations that will outline a vision and objectives in key sustainability topic areas.
Current functional areas for the Sustainable Campus Operations Plan:

The Office of Sustainability is guiding this work in collaboration with the ongoing  GU Master Planning effort (new window)  and a network of campus partners.
To learn more about this process, view this  two-page summary  describing our sustainability planning efforts.
ENGAGING STAKEHOLDERS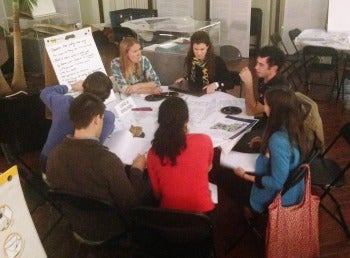 Georgetown believes the participation of our entire community, including students, faculty, staff, neighbors, the City of D.C. and other community members, is essential to achieving a shared vision for the future.
As we pursue collaborative, stakeholder-driven planning processes , a variety of engagement opportunities are focused on sustainability. The input and ideas generated through these conversations are being incorporated into our sustainability plans.
Explore the many platforms and forums through which members of our campus community are contributing input to these processes:

(new window) Georgetown University Sustainable Campus Planning Workshop  – A workshop report reflecting the ideas generated by students, faculty, staff and our consultants at a campus-wide, participatory "eco-charrette" hosted in November, 2013 by the Office of Sustainability.

Georgetown Ideas, Powered by IdeaScale (new window) – We track sustainability-related suggestions on Georgetown Ideas, an online platform driving innovation and facilitating better communication across campus.

Georgetown Master Planning Process (new window) – GU's Master Planning process offers numerous platforms for members of our campus community to share feedback and hold conversations related to all aspects of the university's Master Planning process, including sustainability.

(new window) Visions for a Sustainable Georgetown –This study, produced by Georgetown students in 2012, shares students' ideas for a sustainable campus. Many of these ideas have now been implemented, and others are helping inform our ongoing and future initiatives.
GET INVOLVED
Share Your Ideas :  Submit your ideas for a sustainable campus on Georgetown Ideas (new window) , attend a Master Planning event (new window) , or send an email to sustainability@georgetown.edu to start a conversation about your idea.
Follow Our Progress :  To stay up to date on the campus's sustainability activities, be sure to follow the Office of Sustainability on social media and sign up for our mailing list, below!
CONNECT WITH THE OFFICE OF SUSTAINABILITY