Sustainability at Georgetown: 2016 in Review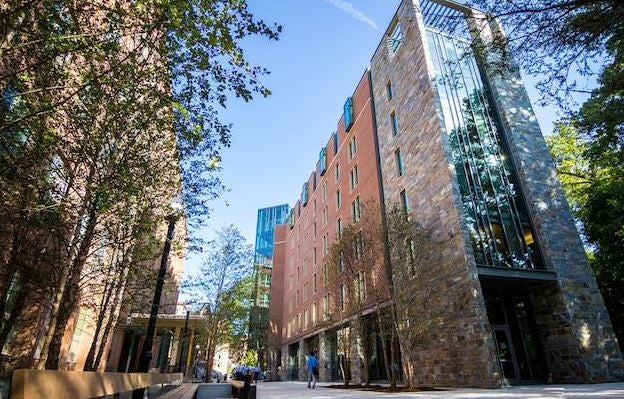 Pedro Arrupe S.J. Hall opened in 2016 and is designed to achieve LEED Gold certification.
Welcome back to campus, Hoyas, and Happy 2017! To help get in the sustainability spirit for what's sure to be another amazing year, we take a moment for reflection on Georgetown's highlights and accomplishments in sustainability in 2016.
Commitment and Shared Values
Over the past year, Georgetown has made significant strides toward attaining our sustainability goals to ensure a better shared community. Georgetown's students, faculty and staff took countless efforts to demonstrate our responsibility to engage in the important work of sustainability with the greatest thought and care. This work reflects the values of our University and the effort to answer the call set forth by Pope Francis in Laudato Si.
Here are several of our favorite examples of these values in action across Georgetown's footprint in 2016:
Water, Waste and Landscaping
Georgetown is advancing water sustainability on campus and in our local and global communities through our operational practices and the work of students and faculty.
As an urban campus, Georgetown makes efficient use of its approximately 104 acres of land. Throughout 2016, Georgetown made significant enhancements to campus green space, including a net increase of 150 new trees planted and the installation of the "Georgetown's Backyard" project, a new green roof patio between Harbin and Village C.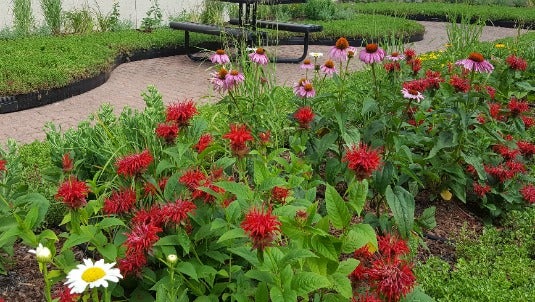 A new green roof was installed at the Village C Esplandade in summer 2016 to advance sustainability and create new student space on campus.
The University now captures almost 4.6 million gallons of storm water for infiltration or re-use at our recent construction projects, including the Healey Family Student Center, Pedro Arrupe S.J. Hall, the new bus turn-around and Ryan and Isaac Halls.
In addition to water conversation efforts, Georgetown Dining has pursued aggressive waste-reduction programs. During each month of the year, over 25 tons of organic food waste was composted from the main campus dining hall and repurposed into soil for gardening use in the DC region.
Transportation
Georgetown recognizes the multiple benefits associated with more sustainable transportation. In an effort to make our campus accessible for faculty, staff, students and visitors, alternative transportation modes such as the GUTS buses provide reliable and consistent travel options to and from campus. This past year alone, GUTS provided over 1,800,000 rides for our community!
For the second year in a row, Georgetown won the annual Metro DC Car Free Day College Campus Challenge. Last September more than 800 Hoyas made a pledge to go car-free or car-lite when traveling to campus on National Car Free Day.
Green Buildings and Infrastructure
The University's Master Planning work incorporates sustainable practices into the design and maintenance of campus buildings. This includes a requirement to build all new buildings to the LEED Silver standard and a goal to achieve LEED Gold. Our two newest buildings, the John R. Thompson, Jr. Intercollegiate Athletics Center and the North East Triangle Residence Hall, both opened this past summer with a goal of achieving LEED Gold. In total, our campus now features 8 LEED-certified and LEED-registered green buildings. Our emphasis on building green has helped achieve a 24% reduction in carbon emissions per square foot of building space since 2006.
Community Engagement
Georgetown's faculty, students and staff lead a broad variety of initiatives to engage our university community in solving the critical challenges of sustainability. There was no shortage of examples where Hoyas stepped to the plate to lend a hand in the community.
At the conclusion of last spring semester, Georgetown's annual Move-Out Drive celebrated its 10th anniversary, repurposing household goods from students for donation to families and individuals living in poverty. Over 800 students donated to the 2016 Move-Out Drive, contributing about 18 tons of basic everyday goods through KEYS for the Homeless to those in need.
In the fall, Georgetown's annual Switch it Off Challenge debuted a new online dashboard for students to view the real-time energy use of their residence halls as they compete to save energy and win prizes. Henle Village won Most Energy Savings, slashing their energy use by over 9%.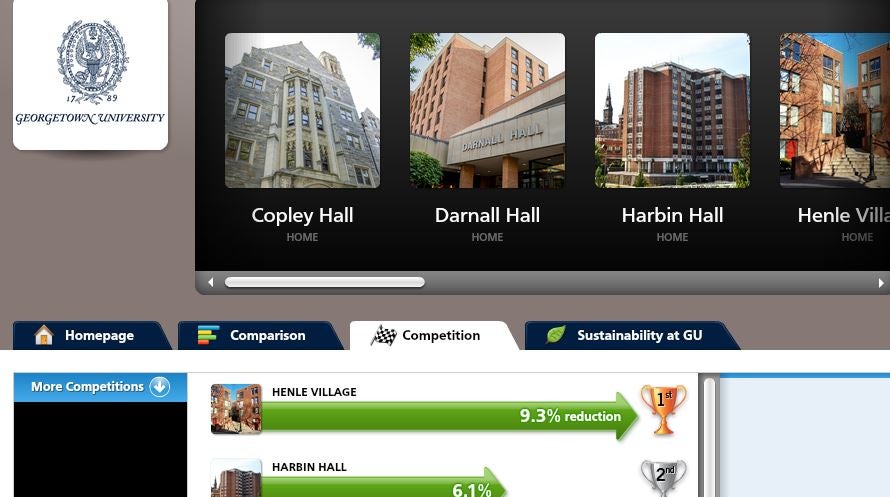 Georgetown launched a new real-time energy dashboard in October 2016 for select campus buildings.
Looking to the Future
To a Catholic and Jesuit university, caring for our environment is one of the most urgent moral and practical concerns of our time. As we kick off 2017, Georgetown is committed to advancing these values in the year ahead. We strive toward long-term ambitions of increasing renewable energy and surpassing "carbon neutrality," adopting circular economy principles in our material use, becoming self-sustaining in water and continuing to demonstrate sustainability solutions on campus. And through the advancement of sustainable partnerships, we are finding new ways to contribute to the local, national and global dialogue on conservation.
These and the countless other acts of sustainability are accomplishments all Hoyas can be proud of. Here's to what 2017 and beyond may hold!