Welcome to the Georgetown Green Offices Program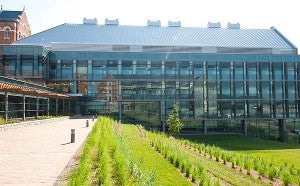 Georgetown's Office of Sustainability invites Georgetown offices and members of the Georgetown community to go "green" – and, in doing so, help the University meet our sustainability goals.
The program provides a variety of simple actions that can be taken to help conserve energy, reduce waste, and make more environmentally friendly choices.
The Office of Sustainability has been qualifying offices as Hoya Green since 2011!
Congratulations to Our Current Green Offices
Green Office Champions – These offices completed 19 or more green actions in their workplace:
Outdoor Education
School of Nursing and Health Studies
University Information Services
UIS Student Help Desk
Office of Human Resources
Center of Student Engagement
Health Education Services
Certified Green Offices – These offices completed 14 or more green actions in their workplace:
Campus Ministry
Kennedy Institute of Ethics
Department of Biology
Department of Philosophy
Office of Faculty and Staff Benefits
Hoya Kids Learning Center
Center for Social Justice Research, Teaching and Service
Office of Technology Commercialization
Gervase Building Third Floor
Law Center Facilities Management
Law Library
Law Center Faculty Support and Campus Services
Find Out How Your Office Can Sign Up Today
Explore the links below to find out how your office can participate.
We hope to hear from you soon!