Dining Services
Sustainability in Georgetown's Dining Services

Hoya Hospitality, which runs the Leo O'Donovan Dining Hall ("Leo's") along with several other dining locations on campus, maintains a strong focus in sustainability. Dining Services successfully gained headway in the 2009-2010 school year by focusing efforts on multiple facets of the dining program, including reducing waste, reducing consumption of water and resources, increasing sustainable foods, and reducing our carbon footprint. These efforts will continue to be a main focus in moving forward. Below is an overview of our major initiatives and progress to date.
---
Sustainably Sourced Foods
Dining services at Georgetown strives to obtain food from sustainable sources whenever feasible. We have achieved the following accomplishments in sustainable food sourcing:
Local and Organic – Dining Services at Georgetown purchases local produce, dairy and baked goods, as well as organic vegetables and milk. In the 2009-2010 school year, organic and locally grown or processed foods made up about 7% of our total food purchases.
Sustainable Seafood – 100% of Seafood served in Leo's Dining Hall meets Monterey Bay Aquarium Seafood Watch guidelines.
Fair Trade Coffee – 100% of coffee served in Leo's Dining Hall is certified Fair Trade.
---
Vegetarian and Vegan Friendly
Vegetarians and vegans find many dining options at Georgetown, which has been nationally recognized for its efforts to satisfy the range of our students' dietary preferences.
Top Ten Vegetarian Campus winner – In 2007 and 2008, Peta2 recognized Georgetown in their "Top Ten Vegan and Vegetarian-Friendly Campuses," noting our big strides forward and varied vegan and veggie menu. Georgetown was also selected as a 2009 contestant, ranking in the top 40 nation-wide.
Vegan Options – In FY 2010, Leo's offered an average of 2,100 vegan meals weekly.
---
Waste Reduction in Dining Locations
Georgetown Dining has pursued aggressive waste-reduction programs. In addition to being nearly landfill-free, Leo's also composts almost all food waste and recycles frying oil, and Dining Services provides incentives for alternatives to plastic bags at Grab' n Go locations.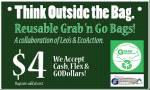 No Bag for Grab! – Reusable bags
Beginning in fall 2010, Georgetown Dining seeks to decrease waste from Grab 'n Go by reducing plastic bag consumption at Market Place Express locations. Dining Services will provide one reusable bag to every student who participates in the weekly Meal Plan. Plastic bags will cost 5 cents each. Reusable Grab'n Go bags will also be available for purchase at both Market Place Express locations throughout the school year for a cost of $4 each. Reusable bags will be distributed in the Spring Semester to students who were not on a weekly Meal Plan during the Fall Semester.
Waste Oil Recycling – 100% of Leo's used fryer oil is diverted and collected for processing into biodiesel fuel, used by vehicles in the area.

Composting – Georgetown Dining is proud to have been the first university in the DC marketplace to compost food waste. Approximately 90% of all waste from Leo's Dining Hall is composted. All discarded, "post-consumer" food items sent to the dish room (such as leftovers, napkins and other organics) and all "pre-consumer" food scraps (from kitchen prep-work) are discarded into special green trash cans lined with biodegradable green trash bags. (The color distinction eliminates confusion during daily procedures.) The discarded food items are picked up daily and transported to a composting facility in Maryland, where the materials are decomposed and turned back in to usable soil.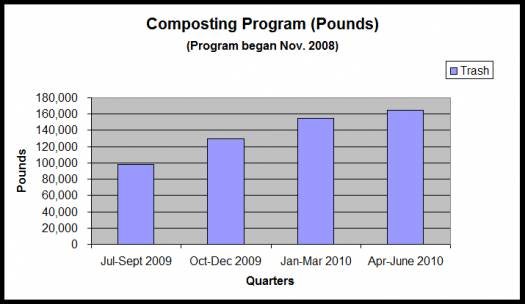 Landfill Diversion – In addition to composting food waste, Georgetown Dining is "nearly landfill free." A proud partner with the university at large to divert solid waste from landfills, waste accumulated at the Dining Hall is converted into energy through a EfW (Energy from Waste) facility located in Alexandria, Virginia. Energy generated allows the plant to be self sustainable, and is used to power area homes and businesses. This relationship enables Dining Services to positively impact the environment while supporting a positive cause and helping to sustain new jobs.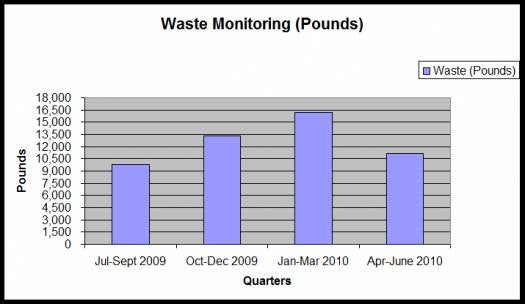 Water Conservation
Trayless Dining – Through trayless dining practices, Leo's conserves about 145,000 gallons of water annually.
Leo's has been a trayless facility since spring 2008. Removing trays has significantly conserved water used to sanitize in the dish room (reducing water use by about 3 cups per avoided tray). Trays were removed from Leo's in April 2008, and due to much positive feedback, Leo's has remained a trayless facility.
Automatic Sinks – Automatic sink fixtures have been installed in about 50% of restrooms in Leo's, with the intention to eventually install no-touch sinks in the remainder of restrooms. In addition to saving water, automatic faucets provide a more sanitary environment for dining service employees and guests.
---
Chemical and Pollution Reduction
Active Ion Cleaners – Dining has introduced an innovative "green" method of cleaning – ActiveIon Pro. This portable cleaning tool eliminates usage of chemicals by converting tap water into a powerful cleaner, while eliminating greater than 99.9% of harmful bacteria.
Electric Vehicles – In FY 2010, Georgetown dining updated two of the golf-carts within their fleet to electric, which improves local air quality through reduced tailpipe emissions.
---
Student Involvement in Dining Sustainability
Student Committee – Dining Services hosts a monthly Student Food Committee meeting to gain feedback from students with meal plans. For more information, visit the Comments page at the Dining Services website.
Student Groups – A variety of student groups address sustainable dining issues through education and advocacy. For more information visit our page on student sustainability organizations.
---
Educational and Marketing Efforts
Green Square Day – In 2009, Dining Services participated in "Green Square Day," intended to engage and educate the student body around sustainability. Dining Services contributions included a sustainable menu served for the day, reusable bag sales, promotion of a sustainability pledge for students, and a demonstration of the composting process.
Green Dining Posters –