Re-purpose Your Packing with the Move Out Drive!
The annual Move Out Drive is back in 2022! Donate your gently used furniture, clothing, books, non-perishable food, and other household goods at one of 7 collection sites May 9 through May 23 between noon and 4 pm.
When and Where to Donate in 2022
On-Campus Community Members
Five collection sites will be conveniently located available across main campus May 9 through 19 and again on May 23 opened noon to 4 pm daily. Acceptable items for donation include gently used clothing, books, sports equipment, bedding (not pillows), electronics, and unopened toiletries and nonperishable food items.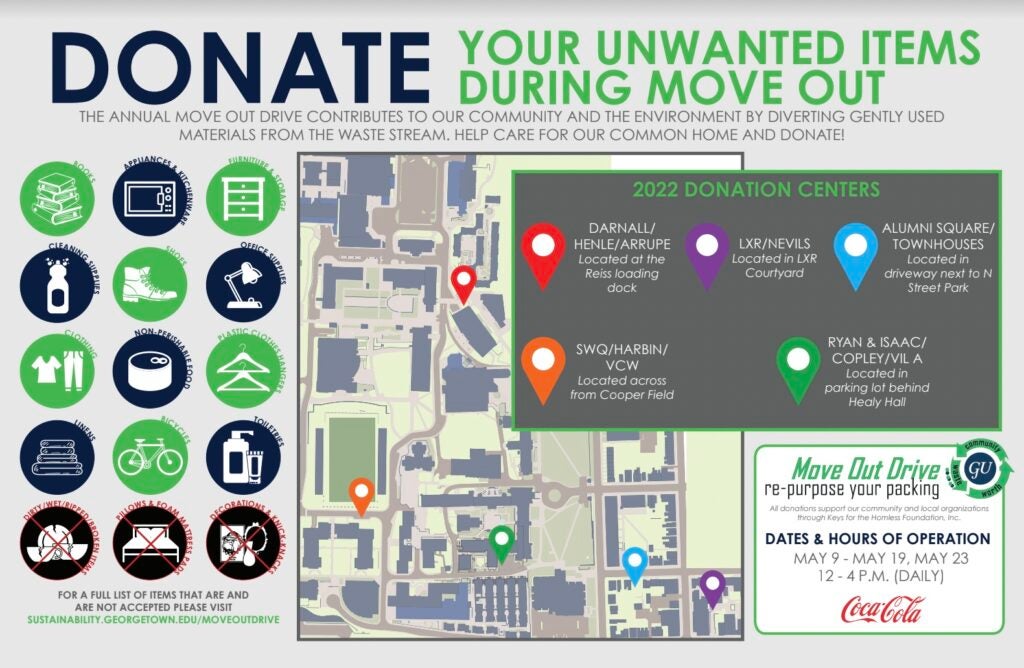 Off-Campus Community Members
Off-campus pickups are managed by the Office of Neighborhood Life. Please visit the Off-campus Move Out Drive page for more information on how to donate if you live off-campus.
About the Move Out Drive
The annual Move Out Drive is Georgetown's end-of-the-school-year contribution to our community and the environment, inviting members of our campus community to "re-purpose their packing" at the end of the semester by donating gently used household items to local charities.
Each May, over 250,000 pounds of unwanted materials are discarded during move out, which can end up in local landfills, harming the local environment and the communities around them. Many students, faculty and staff have realized that there is a better way to re-purpose their packing and help care for our common home.
The Move Out Drive addresses the environmental challenge of the (literally) tons of unwanted clothing, books, school supplies and household goods that Georgetown students discard each year as they move out of their school-year residences. Applying the university's social justice mission to this challenge, Georgetown partners with local charity KEYS for the Homeless (new window) to collect and donate these unwanted items, providing every-day basic household goods to meet real life needs of those living in poverty in the DC region.
Through the years, the Move Out Drive has grown to involve the entire Georgetown community, on- and off-campus, to become emblematic of the university's quadruple bottom line approach to sustainability, serving people, the planet, and promoting prosperity for the common good. The annual Move Out Drive is a collaboration of the Office of Sustainability, Office of Neighborhood Life, KEYS for the Homeless, Office of Residential Living, and Department of Planning & Facilities Management. We would also like to thank our generous corporate sponsors, whose support helps make the Drive possible:

Our Impact
In addition to serving some of the most vulnerable members of our community, the Move Out Drive helps to conserve natural resources and protect our region's air, water, and land by repurposing materials that would otherwise end up in local landfills and incinerators.
Each year, thanks to the work of dozens of university staff, Move Out Drive volunteers, and local charity partners, the Move Out Drive has been able to divert an increasing quantity and quality of goods from the waste stream. In 2018 alone, the Drive diverted over 56,000 lbs of material, valued at $186,000, which made it into the hands of local individuals living in poverty through the help of KEYS for the Homeless.
We are excited to once again work with KEYS for the Homeless Foundation, Inc., a local nonprofit organization that has been working to provide everyday basic household goods to meet the real life needs of those living in poverty for the past two decades. KEYS for the Homeless is a key partner in connecting the Move Out Drive with the dozens of organizations throughout the Greater Washington region who use the goods donated by Georgetown University Community. Your donations will reach those families and individuals served by our community non-profit organization partners.