Engagement
Engaging Our Local and Global Communities on Sustainability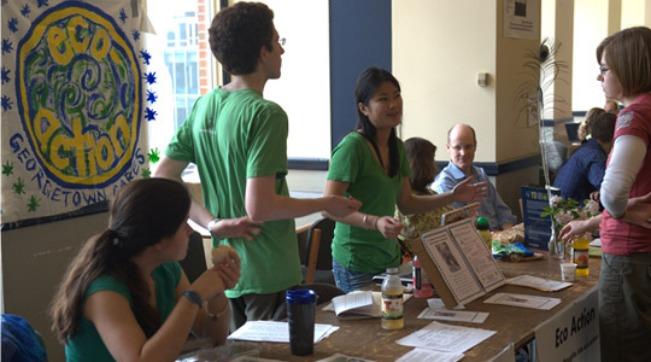 As a Catholic and Jesuit university, we are called to powerfully engage the world, human culture, and the environment—bringing to bear the intellectual and spiritual resources upon which our community is built. In this capacity, Georgetown's faculty, students, staff and other members of our campus community lead and facilitate a broad variety of engagement initiatives in our local and global communities to address the critical challenges of sustainability. An overview of many of these initiatives is described below.
Student-Led Initiatives
Georgetown Environmental Leaders (GEL) is a student-led network that facilitates cooperation and support between different environmental groups and departments at Georgetown and helps sustainability-minded students find organizations that suit their interests. GEL aims to lend support to different environmental groups by helping them recruit interested students, publicize events, work with University administrators, and more.
The Georgetown Sustainable Oceans Alliance is a student-led organization that empowers Millennials to become leaders in preserving the health and sustainability of our oceans. With education, resources, and collaborative opportunities, they aim to inspire Millennials to create measurable impact by incentivizing social and environmental investments and fostering cross-sector partnerships. In 2015, they hosted the world's first Sustainable Oceans Summit, a call to Millenials and global leaders to prioritize ocean sustainability.
The SIPS Green Fund is a student-led initiative with goals of promoting the use of renewable technologies and energy efficiency in university infrastructure while empowering Georgetown students to implement financially viable infrastructure improvement projects on campus.
---
Global Futures Initiative
Georgetown University's Global Futures Initiative (new window) is a university-wide exploration of pressing global issues through teaching, research, and dialogue with world leaders in the public sector, business, and civil society. Over the course of 2015 and 2016 the Initiative is inviting faculty and students to address four issues critical to the future of humanity: development, governance, security, and the environment.
---
Georgetown Energy Prize
The Georgetown University Energy Prize (GUEP) is designed to tap the imagination, creativity and spirit of competition among communities across the country to develop innovative solutions for energy efficiency. Since its launch in April, 2014, the GUEP has supported nearly 100 communities in energy-efficiency planning; has brought together federal agencies, global NGOs, and major corporations with community leaders in small to mid-sized municipalities from across America to plan new approaches to energy efficiency. The prize is spearheaded by Georgetown's Program on Science in the Public Interest, the Georgetown Environment Initiative, and the McDonough School of Business Global Social Enterprise Initiative.
---
Sustainability Collaborations with the District of Columbia
Through our participation in the District of Columbia College and University Sustainability Pledge, Georgetown is committed to helping advance the sustainability goals of Washington, D.C. Under this framework, the university has ongoing, active collaborations with local organizations such as the District of Columbia Sustainable Energy Utility (DC SEU) and DC Water's DC Clean Rivers Project to advance mutual sustainability goals such as energy conservation and a healthy watershed.