Beat the Heat with These Green Energy Tips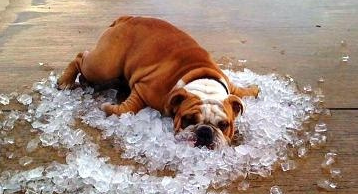 We are well into another summer in the Washington, DC area, and that can only mean one thing: The warm weather has arrived!
On days when temperatures surpass 90 degrees, Georgetown participates in a region-wide voluntary energy curtailment program to help stabilize the power grid and avoid brownouts in the DC Metro Area. Although Georgetown has backup systems to help keep us cool in this heat, as a major electricity customer in the District, the Georgetown community has a responsibility avoid unnecessary energy usage to help everyone in the larger DC community maintain access to electricity to stay cool. In addition to the community benefits, conserving energy during these heat waves helps avoid the added pollution from the dirtier power plants that are brought on-line when demand peaks, and contributes to our institutional goal of reducing our greenhouse gas emissions by 50% by 2020.
There are a number of actions each of us can take within our offices, classrooms and living spaces that take little to no time that can have a major impact on our conservation efforts. You can contribute to the voluntary energy conservation program while on campus by:
Informing Facilities Management if your space is over air-conditioned
Leaving your windows and doors closed when the air conditioning is running
Adjusting your window blinds to let in daylight but block heat from direct sunlight
Turning off unnecessary lighting in your office
Taking the stairs instead of the elevator
Putting your computer to sleep and turning off your monitors when not in use
Placing your printers into low-power mode when not in use
Sharing our "Top 10 Ways To Save" Poster in your office
When at home, this recent Washington Post article highlights the simplest and most effective ways to save energy and stay cool.
And don't forget to drink plenty of water! Carrying a reusable water bottle on campus not only keeps you healthy and hydrated, it also creates a positive global impact. Americans buy over 29 billion plastic water bottles each year, of which, only 1 in 6 makes it to a recycling bin.
In addition to plastic litter in oceans and rivers, and the transportation and energy impacts associated with shipping heavy water by truck, the world's potable water sources are being depleted at an unsustainable rate. The United Nations reports that nearly 1 billion people currently lack access to clean water. With the existing climate change scenario, almost half the world's population will be living in areas of high water stress by 2030. While DC is not currently in a water-stressed region, purchasing bottled water can exasperate drought conditions in other parts of the world where the water is bottled. Georgetown's Think Global, Drink Local! Initiative is increasing access to chilled, filtered tap water throughout the campus, making it easy for our community members to choose sustainable tap as their drinking water.
You can help the university conserve our natural resources, stabilize the power grid, and reduce our carbon footprint by taking the pledge to continue taking some (or all!) of these actions throughout the summer. More information about our campus-wide energy conservation and efficiency initiatives can be found here.
-Robin Morey, Vice President, Planning and Facilities Management