Clean Block Competition
>> Winter 2018 Clean Block Winners can enter the raffle here <<
The Georgetown Community Partnership (new window) is holding the 2017-2018 Clean Block Competition for the West Georgetown and Burleith neighborhoods! Join Georgetown University students and neighborhood community members in this friendly competition to win fun prizes and keep our neighborhood clean.
CONGRATULATIONS WINTER 2018 WINNERS!
Congratulations to the residents of the following blocks, who are the Season One winners of the 2017-2018 Clean Block Competition:
West Georgetown:
Gold Winners: 3200 Block of N
Silver Winners: 3400 Block of P
Burleith:
Gold Winners:  3600 of Whitehaven, 3600 of T (odds), and 1900 of 37th (odds)
Silver Winners: 3800 of T (odds), 1900 of 38th (odds), and 1900 of 39th (evens)
The Spring Season will run in February and March!
HOW TO WIN
The Clean Block Competition recognizes West Georgetown and Burleith residents who successfully follow the "Tips for Success" (see list below) on an ongoing basis. The Cleanest Blocks in each neighborhood will be selected based on information gathered by canvassing both neighborhoods on a regular basis during each season. The Fall competition season is October and November, 2017 and the Spring competition season is February and March, 2018.
In addition to regular canvassing, teams of judges including student residents, non-student residents, and university staff will also walk the neighborhoods once per season to select first and second place winners who demonstrate exceptional Clean Block practices.  The 2017 fall season judging day for West Georgetown will occur the week of Columbus Day.
Blocks that were Gold or Silver winners in 2016-2017 will not be eligible to win this year. See a list of past winners.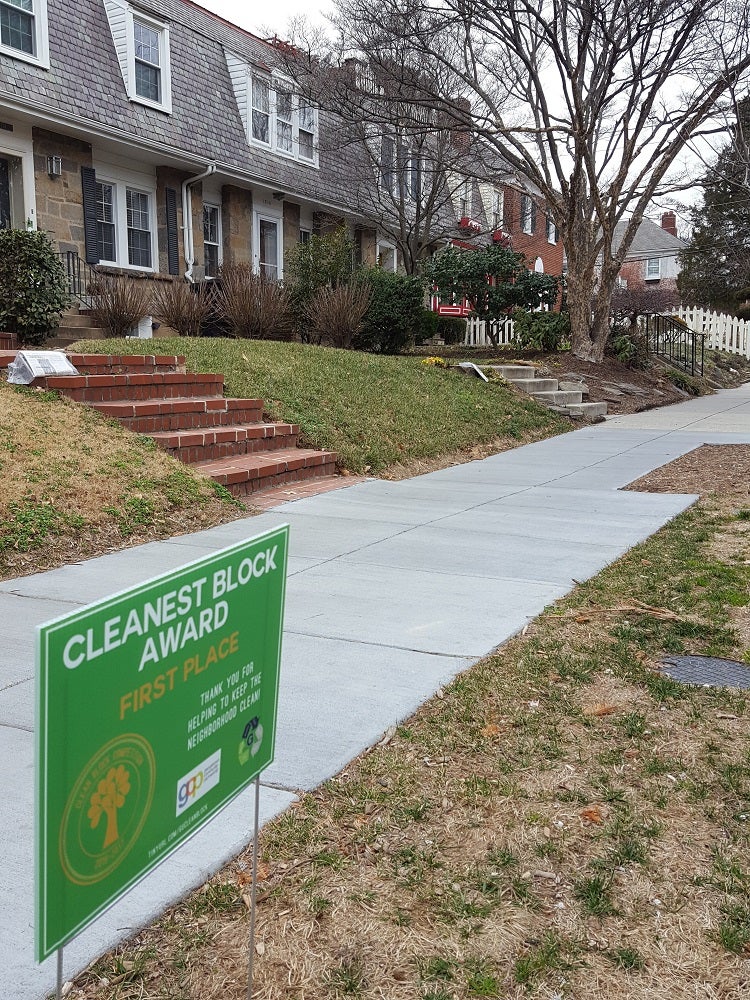 TIPS FOR SUCCESS
If you are a Georgetown student or community member living in these neighborhoods, remember to follow the tips below to help keep the neighborhood clean, safe and litter-free. These tips also help prevent rats, promote public health and help the environment!
Ensure that trash, recyclables, litter and trash bags are placed in the proper receptacles with the lid securely shut.
Schedule an appointment for "Bulk Pickup" through 311 or the Office of Neighborhood Life (new window) if you have items like bulky furniture or appliances.
Be sure to only put your trash and/or recycling cans out for pickup after 6:30pm on the day before your scheduled trash day, and make sure they are returned by 8:00pm on your scheduled trash day.
Remember, on weeks that a federal holiday is being observed before your scheduled trash day, all trash will be picked up the day after your normally scheduled trash day.
Pick up any litter that accumulates on or around your property and make sure it is put in the proper receptacle.
Clearly mark your trash cans with your address using a bright/bold paint color that will distinguish your cans from your neighbors cans.
Maintain your property in such a way that you do not have overgrown weeds (10 inches plus), or uncleared leaves and snow (depending on the season).
Keep the street gutter in front of your house cleared of leaves and litter.
PRIZES
Winning blocks and runners-up in Burleith and West Georgetown will receive gold and silver medals displayed in the blocks' treeboxes after each competition season.
Additionally, each resident on the winning blocks will be able to enter a raffle to win fun prizes, including tickets to performing arts and athletic events.
2018 Raffle Prizes (per neighborhood)
Four sets of four tickets to a Georgetown men's basketball game at Capital One Arena (through Feb 26)
Two sets of four tickets to the world premiere of "Amanuensis," a production of the GU Performing Arts Department (April 12-21)
Households on the winning blocks can enter the raffle HERE.
Resources
For more information and tips to keep your block clean, visit:
You may also contact the city using DC 311 (the District's Helpline) or the Office of Neighborhood Life at (202) 687-5138
Check back for updates on the winning blocks!