Coca-Cola Partnership Accelerates Sustainable Campus Initiatives

Partnerships and collaboration are an essential part of Georgetown's work in addressing critical sustainability challenges. Whether it is recycling efforts to keep our campus clean along the banks of the Potomac, or asking our hard-working staff to participate in energy conservation efforts on hot summer days, we constantly work together to achieve the future we envision.
This spirit of collaboration toward a shared sustainability mission also extends to our business partnerships. Through intentional efforts to integrate sustainability considerations into key vendor relationships, Georgetown is accelerating sustainability outcomes in our campus footprint and operations. A shining example is our multi-year sustainability collaboration with the university's beverage partner, Coca-Cola.
Georgetown University and Coca-Cola have fostered a successful partnership around sustainable initiatives since 2008. In recent years, Coca-Cola supported bicycle-friendly initiatives on campus, including new secure bicycle racks at Red Square and two new bicycle repair stations. Additionally, Coca-Cola supported a year-long student-led bicycle rental pilot program which provided bicycles to ten undergraduates to use for the year. 
More recently, Coca-Cola has also sponsored the development of a real-time energy dashboard for select Georgetown University buildings, which will be launched this fall as part of GU's annual residence hall energy conversation challenge. The competition begins in October and you can preview (new window) what the dashboard entails.
In addition to supporting the annual competition, Coca-Cola has sponsored three new Solar NRG Street Charge stations, two of which have been installed at the Bus Turnaround and a third at the new green space at Village C. These new stations provide members of the campus community with easy access to clean and sustainable power-charging options for mobile devices while on the go.  
As the local bottler, Coca-Cola Consolidated is excited to partner with Georgetown University to bring a variety of sustainability programs such as a Solar Charging Station, a Backyard Garden and a Bike Share program to the Georgetown campus," said Emilie Nicholls, Communications Manager, Public Affairs, Coca-Cola Consolidated. "Through these initiatives, students are empowered to make a difference in their community and design programs that are for students and by students. We value our partnership with Georgetown and enjoy working with the university and its' students to create programs that provide both organizations with a platform to accomplish common sustainability goals, which include preservation of green spaces, water conservation and reducing our environmental footprint. We look forward to our continued collaboration for years to come."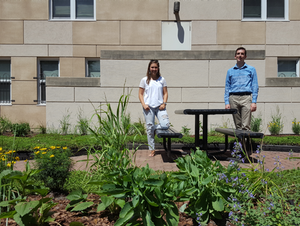 Coca-Cola has played a key role in developing 'Georgetown's Backyard,' the new student-inspired sustainable green space project at Village C. The project revitalized a formerly underused hardscape into a vibrant green space for student use, bringing green roof materials and native plants along with benches and tables for student use. The project was co-sponsored by the Georgetown Student Activities Commission.
A key component of Georgetown's sustainable mission requires collaboration with both internal and external stakeholders around a common goal," said Robin Morey, Vice President of Planning and Facilities Management, Georgetown University. "We are grateful for the partnership the University has established with Coca-Cola, and we look forward to working together on current and future initiatives to better our campus footprint."
-Georgetown University Office of Sustainability