Georgetown Donates Surplus Furniture for Reuse and Recycling
Posted in News
Georgetown's Office of Residential Living and Office of Planning, Design and Construction partnered this year with IRN: The Reuse Network to reuse and recycle surplus furniture from residence hall renovations during the 2020 calendar year. 
"As a part of our vision for zero waste in campus operations, the Office of Sustainability and our partners across campus are making ongoing efforts to maximize the life cycle and minimize the disposal of furniture items." says Audrey Stewart, director of the office of sustainability.
Furniture waste is often overlooked because it is generated less frequently than other forms of waste, however, it makes up a large part of landfill waste. In 2018, over 9.5 million tons of furniture and furnishing were disposed of in landfills, according to the Department of Commerce. The university has donated over 7,000 pieces of residential furniture to date – including 4,000 mattresses. Over 90% of the donation will be used to support local relief efforts in Alabama, Maryland, Oklahoma, Pennsylvania and Virginia, as well as international relief efforts in Honduras, where non-profit organizations have requested furniture donations. The remaining 5% will be recycled locally.
The surplus furniture donations mean the university will have diverted over 237 tons of waste from landfill.
"Addressing deferred maintenance and needed furniture upgrades within our current campus residences have provided a great opportunity for us to contribute to charity organizations, such as IRN, that align with our mission of sustainability and making a global impact." says Cornelius Weaver, senior project manager in the planning, design and construction office.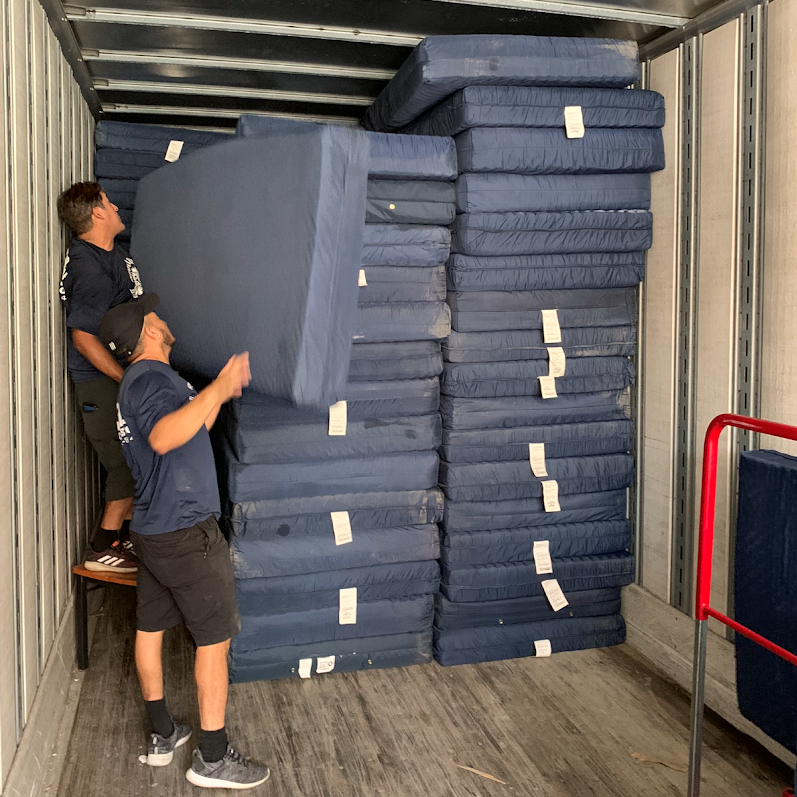 Some of the mattresses donated through IRN
"I have worked with IRN several times, and each time they have provided exemplary service and have served as a valued partner to the University in identifying both local and global relief efforts."
IRN, a New Hampshire-based company matching the needs of charities and nonprofits around the world with surplus furnishings and equipment from schools, universities, corporations and other large organizations. It has saved 80 million pounds of surplus from entering landfills since its founding in 1999.
The collaboration with IRN grew from Georgetown's commitment to reduce waste in its master planning and renovation projects.
Since 2009, Georgetown has committed to ensuring all new facilities and major renovations will be designed to meet the U.S. Green Building Council's LEED standards for environmental design at the Silver level or higher, and to date has achieved LEED at the Silver and Gold levels for nearly 1 million square feet of building space.
Additionally, the university has recycled approx 70-80% of construction waste from its recent construction projects. This opportunity to extend the life-cycle of residence hall furniture is another step forward in our mission to reduce the environmental footprint of campus operations and care for our common home.