Georgetown Electric Vehicle Research Initiative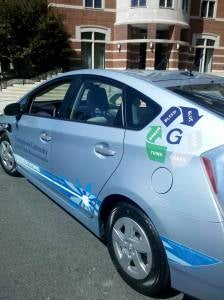 Georgetown University served as a demonstration site in a global electric vehicle research initiative with the Toyota Motor Corporation and ZEV Technologies, Inc. in 2010 and 2011. During that time, two Plug-In Hybrid Electric (PHEV) Prius prototypes, provided by Toyota, were tested for several months each by volunteer drivers selected from our faculty and staff. The initiative helped gather real-world data about electric passenger vehicle use.
---
Electric Vehicle Charging Stations
As part of the electric vehicle test-drive program, two "Level 2" charging stations have been installed in Garage 4. Inquire with the Office of Transportation Management to learn more about how Georgetown staff and faculty driving electric vehicles can access these stations.
---
Electric Vehicles and Sustainability
By taking steps toward accommodating electric vehicle use, Georgetown continues to advance our sustainability goals, including the reduction of our carbon footprint. Plug-in hybrids and other electric vehicles support sustainability by:
Offering the potential to reduce greenhouse gas emissions from transportation, by burning less or no petroleum per mile driven.
Encouraging cleaner, healthier cities through reduced tailpipe emissions.
Contributing to national energy security by consuming less or no petroleum per mile driven.