Hannah Funk's Reflections
Posted in Reflections | Tagged Reflections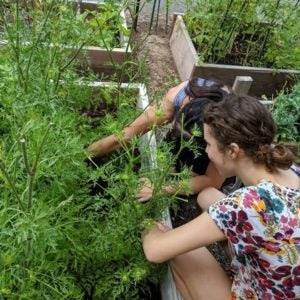 Student
SFS '20
What is your connection to sustainability or the environmental movement? This can be on a personal or professional level.
I am majoring in CULP with a focus on sustainable development, which allows me to study the intersections between international environmental initiatives and social justice, an area I am very passionate about. On campus, I also work as an intern in the Office of Sustainability and have been involved in GREEN throughout my time at Georgetown. Currently, I lead a residential compost initiative.
What is an action you are taking to improve the environment, whether in your personal or professional life?
The action on campus I am most excited about now, as I mentioned above, is the residential compost initiative. Through a Laudato Si fund grant, I have helped 50 student households to compost all of their food waste, dramatically reducing Georgetown's environmental footprint and educating students on sustainable habits. My apartment composts through this program, and I have seen my roommates and myself change our behavior and become more waste-conscious over the course of the year.
Do you have an environmental "fun fact" you would like to share? This can be an anecdote, something you've read, or anything else that feels important to you!
Everyone should read the new(ish) book The Overstory! It is a great novel about environmental activism with lots of fun (and not so fun, but really important!) facts embedded within it.
Do you have a recommendation or piece of advice for Hoyas who wish to do more to help the planet?
I would advise everyone to take a class related to the environment or try out an environmental club before they graduate. Even if you think it is not your thing, there is so much misinformation about environmental issues that I think engaging with the topic in an academic way can give you a great baseline to start acting more sustainably. And it may catalyze an interest in the environment you didn't know you had!
From your perspective, how do the environment and sustainability relate to connectedness and community care? Are there uplifting ideas or messages about the environment that you would offer to your fellow Hoyas during these challenging times?
During the past couple of weeks, which have been difficult as my senior year ended early and I had to say goodbye to friends, I took comfort in the ways that caring for a shared environment has helped me to build lasting communities at Georgetown. From friends from GREEN who arranged virtual environmental documentary viewing nights, to all of my partners from the residential compost program who were there to support me, my environmental communities have helped to inspire me from a distance.