Lucy Morrison's Reflections
Posted in Reflections | Tagged Reflections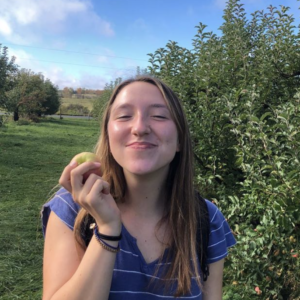 Student
COL '20
What is your connection to sustainability or the environmental movement? This can be on a personal or professional level.
I have been interested in food systems and sustainable agriculture since high school. I worked on a farm for four months, and it was there that I was able to experience a hyper-local food system, where everyone had a direct connection to the food that we were eating. Unfortunately, that is not how most of society experiences food, but we can shift that. I want to build a greater consciousness of individual connection to food, because it has the ability to nourish us, and the ability to nourish our planet.
What is an action you are taking to improve the environment, whether in your personal or professional life?
I am working to improve food systems by starting Slow Food Georgetown. I started this club, a chapter of Slow Food USA, to bring conversation and action to campus around building regenerative, sustainable and just food systems. Oftentimes the impact of food systems on the environment is overlooked – but it contributes approximately 37% of our total annual greenhouse gases, and has significant impacts on biodiversity, water health, and air quality. Currently, it poses a major problem but working to improve it will have significant wide-reaching benefits. Everyone needs to eat, and everyone can work to change the way our food system works. Fixing our food system is a massive interdisciplinary project that will take having action from all sides, but we can start right now at Georgetown by learning more about the complex dynamics and assessing our individual impact.
Do you have an environmental "fun fact" you would like to share? This can be an anecdote, something you've read, or anything else that feels important to you!
Soil is more than just dirt — it's practically a living organism! One handful of healthy soil contains billions of micro-organisms that are critical to storing gases, breaking down and retaining nutrients, and growing healthy plants! Healthy soil practices have the ability to reduce greenhouse gas emissions, grow happier and healthier plants, and feed the world.
Do you have a recommendation or piece of advice for Hoyas who wish to do more to help the planet?
Don't underestimate the power that voting with your dollar has! Visit farmer's markets, talk to producers, eat seasonally, buy locally, and eat less meat! Also, research companies and call them out if they aren't meeting your standards. You don't have to change your entire way of eating, but if we all make small changes we can have a big impact!