Renewable Energy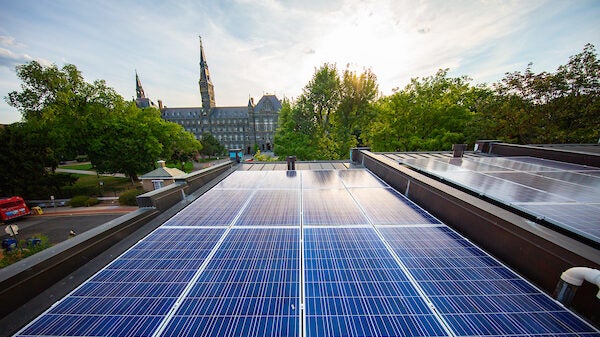 ---
Renewable Energy Initiatives
Increasing our use of renewable energy is an important part of Georgetown University's approach to reducing our greenhouse gas emissions (new window) and creating a sustainable campus. In 2013, Georgetown was recognized as an EPA Green Power Partner of the Year (new window) in recognition of our work.
Learn more about what we're doing via the links below.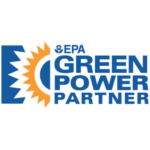 100% Renewable Electricity: As of FY13, GU requires green-e certified (new window) Renewable Energy Certificates (RECs) for 100% of electricity procured for the Main and Medical campuses. This helps GU meet our LEED green building targets, and makes Georgetown one of the top renewable energy purchasers among universities and college campuses in the US! Learn more >> (new window)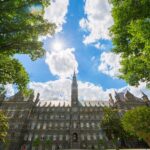 New Power Purchase Agreement: Two-thirds of the university's electricity needs are provided through a new Power Purchase Agreement (PPA) that launched in October 2020. The 15-year agreement allows Georgetown to annually buy 100,000 megawatt-hours of electricity from 11 existing solar plants. The university purchases the energy without the associated RECs, and through a second financial transaction, purchases Green-e certified renewable energy certificates for the same amount of power for the first five years of the agreement. Learn more about the agreement and explore the Solar Power Purchase Agreement sources.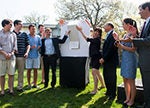 Solar Street: GU's "Solar Street" project is a student-spearheaded, 18 KW solar PV array on the rooftops of 6 historic rowhouses at the campus's Main Gates. Solar Street provides the same carbon reduction benefits as planting 333 new trees or removing 44 cars from the road for a year. Learn more >> (new window)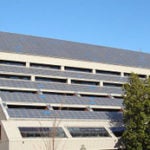 Historic Bunn Intercultural Center Solar Array: The original 300 kW Bunn Intercultural Center solar PV array was installed in 1984, and by 2013 was the longest running installation of its scale at any college campus in the country, producing over 5.8 million kWh over its lifetime. After an impressive 30 year life, the system has been retired.