Water Conservation on Campus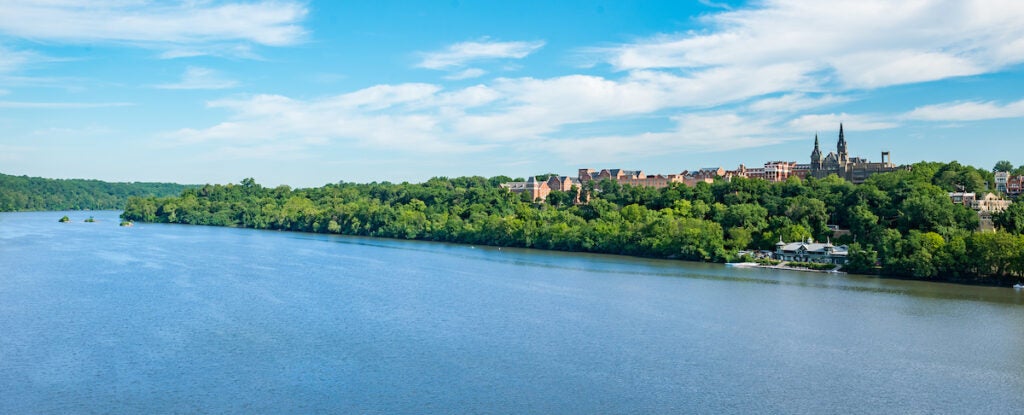 Background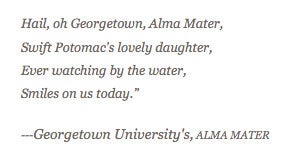 At Georgetown, our location overlooking the Potomac River provides more than just extraordinary scenery – it also gives us a daily view of the water source that sustains us. The water flowing through our campus taps for drinking and daily use originates in the Potomac River.
It is then treated through a complex process to become safe, high quality drinking water, and distributed to homes and businesses throughout the city by over 1,300 miles of water pipes.
Water is essential for human life and ecosystems, and it is a finite resource on our planet. According to the UN (new window), less than 0.001% of the world's water is available as freshwater to human communities and ecosystems. Water use is also critically linked to energy use, with about 15% of the world's water withdrawal being used for energy (new window) – second only to agriculture. Maintaining a freshwater supply to support our human communities is expected to increasingly rely on energy in coming decades.
As a campus, Georgetown is taking steps to reduce our consumption of potable water. Through solutions like those below we are using this precious resource more efficiently to protect water for future generations.
---
Campus solutions
Efficient Building Design and Operations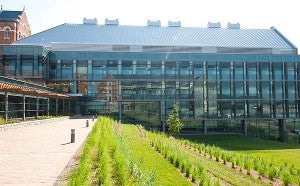 Regents Hall is designed to use 87% less water than a comparable building. It reduces potable water consumption through the capture and re-use of rainwater in toilets and for irrigation, and contains automatic efficient sinks, dual flush toilets, and other efficient equipment.
For more information, click here (new window).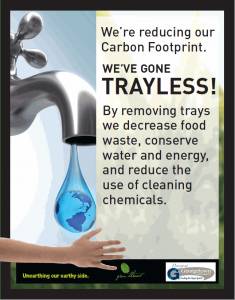 Leo O'Donovan Hall, the main campus dining hall, conserves about 145,000 gallons of water annually by going "trayless." Each avoided tray saves about 3 cups of water!
Automatic sink fixtures, which shut off automatically, have been installed in about 50% of restrooms in Leo's, with intention to eventually install no-touch sinks in the remainder of restrooms. In addition to saving water, automatic faucets provide a more sanitary environment for dining service employees and guests.
To learn more about Georgetown's sustainable dining practices, click here.
Low-water Landscape Strategies
Georgetown uses low-water landscaping strategies that are helping to cut water waste on campus:
Rain water is harvested for irrigation at Regents Hall.
A centralized irrigation monitoring system used in many parts of campus helps avoid unnecessary watering, by collecting weather and climate data to determine how much water is needed for plants on campus.
The selection of drought-resistant, native and adaptive species is common practice at new buildings, such as the Hariri Building and Regents Hall. These plants require less water to survive and reduce the need for irrigation.
To learn more about Georgetown's sustainable grounds practices, visit these pages:
Land and Grounds
Stormwater Management